On Wednesday, June 15th, Mimoza Keka performed a Piano Recital at Gallery MC, New York City
Pianist Mimoza Keka, born in Skopje, earned acclaim as a recitalist, chamber musician, piano accompanist and recording artist with her numerous projects and concerts across the country and abroad. Since studying at the Faculty of Music in Skopje with Prof. Todor Svetiev and Prof. Lilya Zilberstein, obtaining a Bachelor of Music (2015) and a Master of Music Arts (2017), as well as being awarded in 2021 with a PhD in Music Arts, Mimoza has launched into a successful concert career as a solo artist, with concerto appearances, solo recitals and chamber concerts. In 2022 she published her book "The use of digital technologies in quantitative analysis of piano performance" available at Amazon.com, as well as she published her first solo album named NON-FUNGIBLE, which is available on all streaming platforms.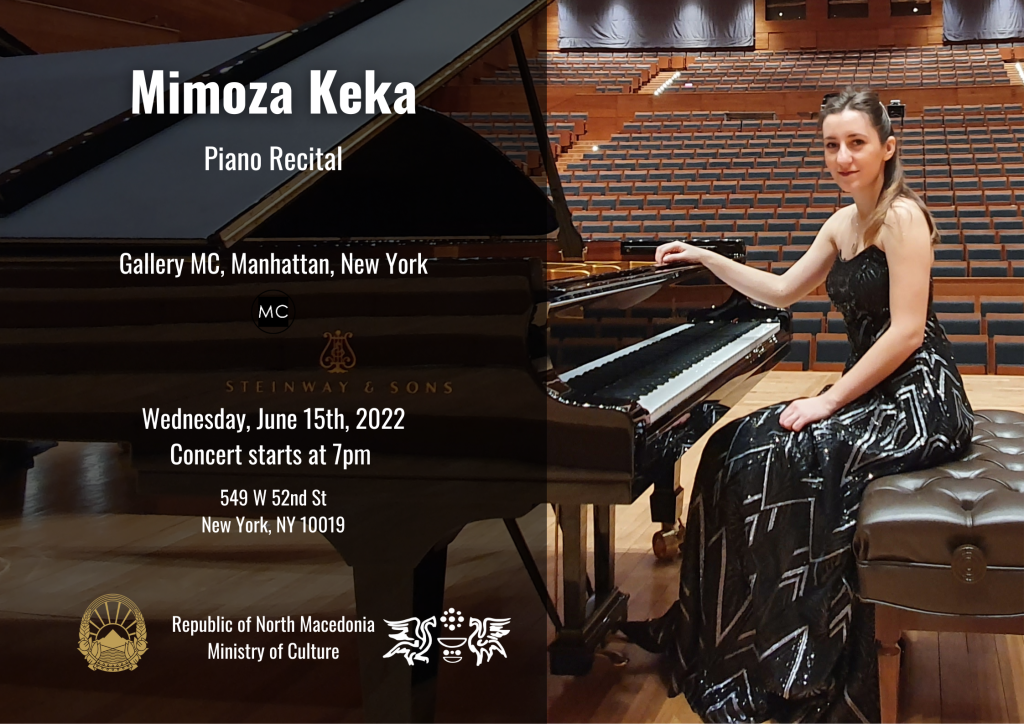 Mimoza has collaborated with distinguished conductors including Sasha Nikolovski-Gjumar, under whose baton she performed the Piano concerto no. 2 from Camille Saint-Saens, conductor Sasho Tatarchevski, as well as conductor Bisera Chadlovska with whom she has an active collaboration at the Faculty of Music in Skopje. As a chamber musician she joined the Ensemble for contemporary music Contempora from SOKOM. Additionally, she has active engagements playing piano duo with pianist Francesca Orlando. Furthermore, she has enjoyed performing recitals in many European Cities including Paris, Rome, Bristol, Milan, Trieste, Siena, Punta Ala, Sovicille, Montrond-les-Baines, Sozopol, Sarajevo. Mimoza has performed at Concerti del Tempietto in Rome, Les dimanches musicaux in Paris, International Festival Akordeon Art Plus in Sarajevo, at the International Francophone Festival Soleil in Sozopol, Bulgaria, Siena Summer Festival, having performed in the renowned hall of Palazzo Chigi Saracini  in Siena, Italy (2015, 2016, 2017), Festival international de piano Jeunеs Talents in Montrond-les-Baïnes, France, as well as she participated in the spring concert season of the Bristol Music Club in Bristol, United Kingdom.
In 2019 she was chosen to participate as one of the ten participants of TEME Project (Transnational European Music Entrepreneur) held in Trieste and Camerino, Italy, a project approved and supported by the European Commission and part of the program Creative Europe and Music Moves Europe.  In April 2022 Mimoza took part in the initiative "Europe for Ukraine" of Amelia Ray, and participated in the recording of the original song of Amelia Ray "Hands in Hearts". Mimoza has also performed in a number of master classes with highly acclaimed pianists and has participated in professional trainings at prestigious music academies, including Accademia Musicale Chigiana in Siena, Italy with maestra Lilya Zilberstein from 2015 to 2017.
ABOUT THE WORKS BY MACEDONIAN COMPOSERS
This recital program with its creative and modern character, includes the fundamental piano works from the 18th through the 20th century and continuing to the 21st century – classical and contemporary/modern music, combining compositions by contemporary Macedonian authors. 
The performance of such a recital program enables the listener to get acquainted with the style of composing of the contemporary Macedonian composers from the second half of the 20th century until today. The program is set in a way that allows a historical overview of the composed piano works: the  Suite for Piano solo op. 27 by Tomislav Zografski, published in 1960, followed by the Nocturnes on themes of Macedonian folk songs for piano by Dimitrije Buzarovski published in 2004.

The suite as a musical form was especially important in the Baroque era and was used by the composers Francois Couperin, Georg Philipp Telemann and Johann Sebastian Bach, but with the advent of classicism it fell out of use. Tomislav Zografski with the Suite for Piano Solo op. 27 won the 1st prize at the first competition for classical music in 1960 in Skopje.
Regarding the Nocturnes by Dimitrije Buzharovski, this cycle of compositions was written in the musical form Nocturne, which was particularly significant in the 19th century and was a one-piece composition for solo piano, first used by the Irish composer John Field and actualized by Frederick Chopin. In fact, the very title Nocturnes means the form, which in translation means night, evening, i.e. a composition that was performed at evening parties from the 18th century. The Nocturnes on themes of Macedonian folk songs are a fundamental work for piano by the composer Dimitrije Buzarovski, who through the actualization of this musical form, returns to the original tradition, by using themes of Macedonian folk songs.