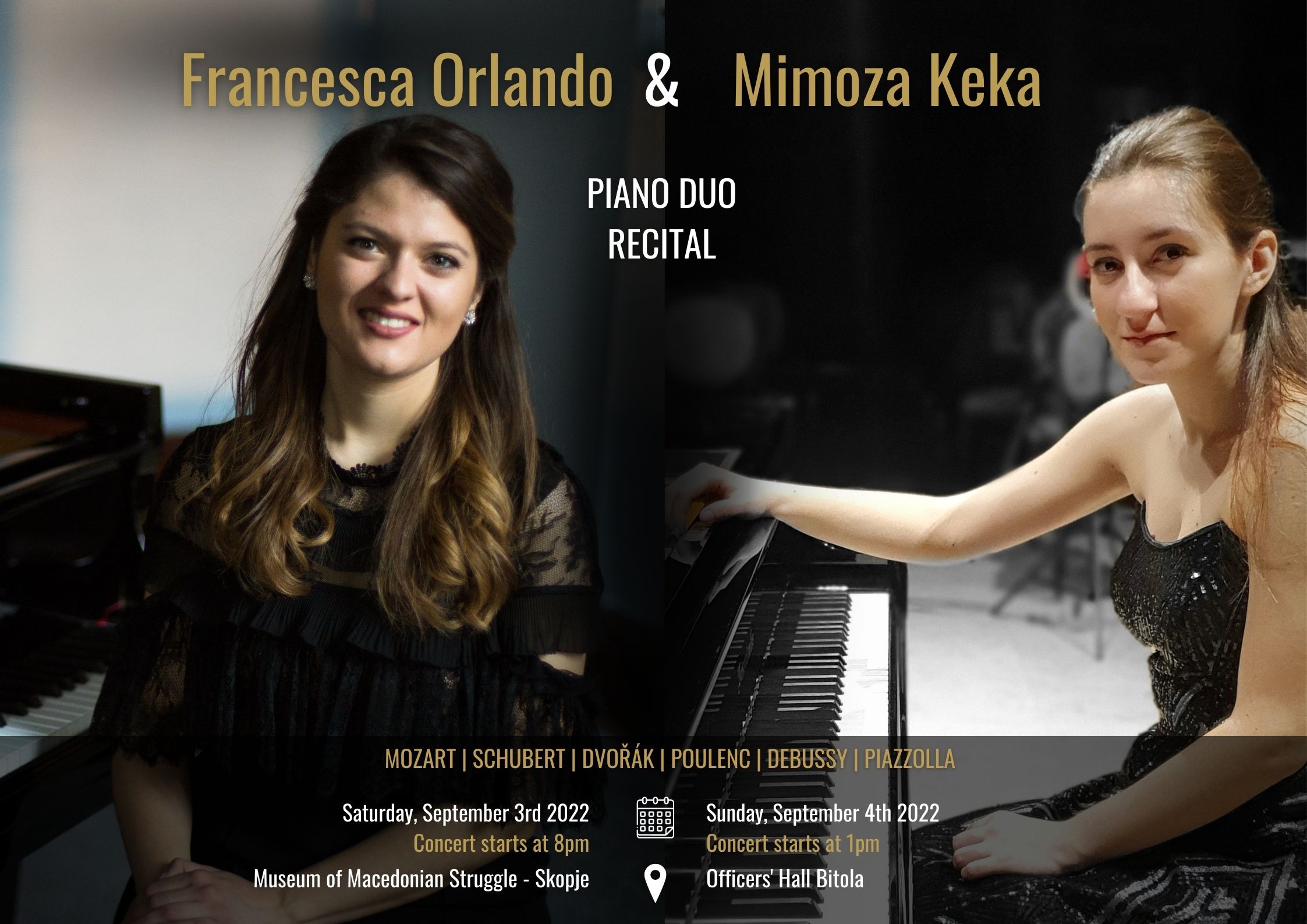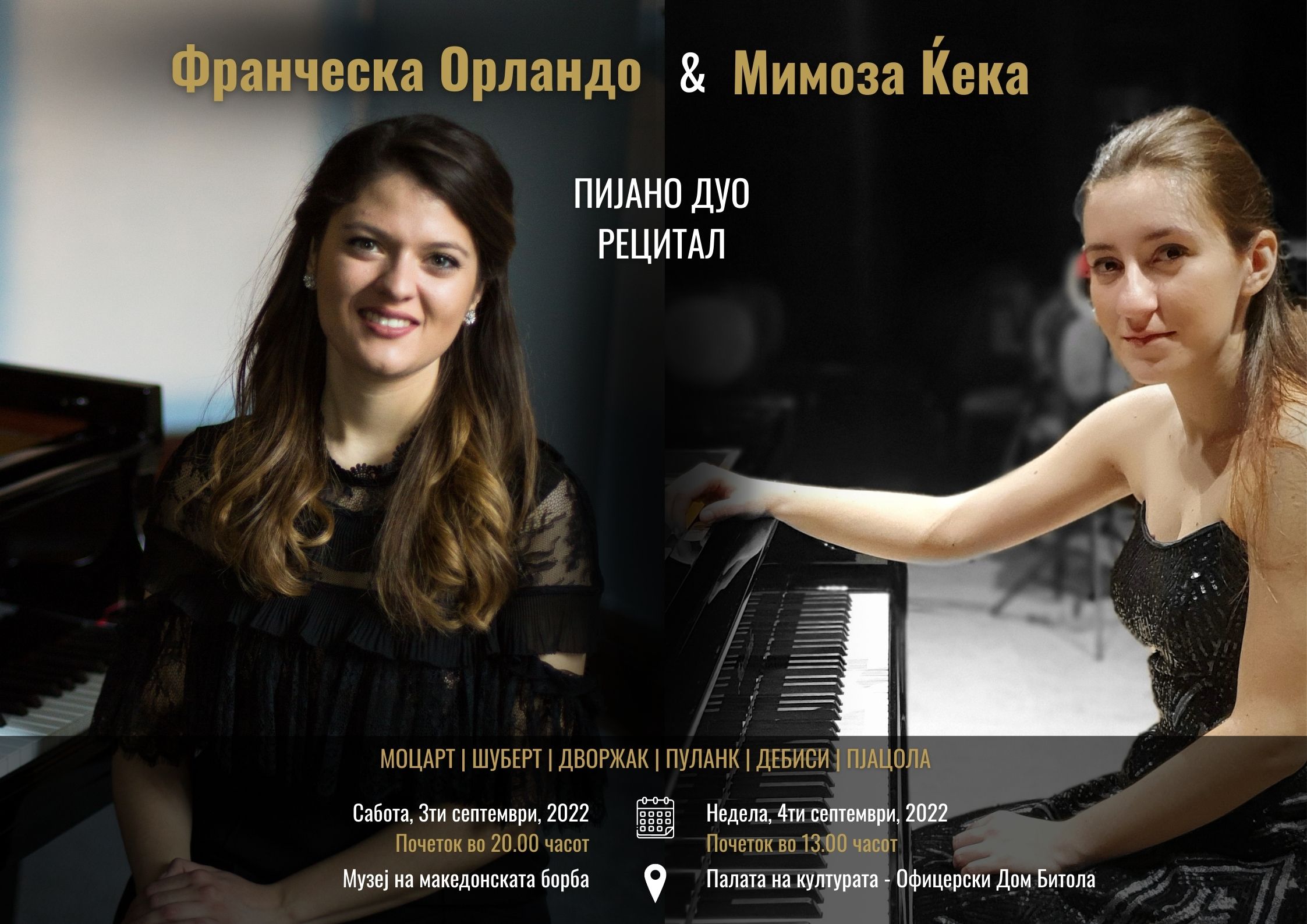 ABOUT

Born in Florence, Francesca Orlando is a British-Italian pianist who has performed internationally both as soloist, accompanist and chamber musician across many European cities including London, Copenhagen, Budapest, Malta, Florence and Rome. Since her debut recital in Florence, at the age of fourteen, she has performed extensively in acclaimed concert venues such as the Wigmore Hall, St James' Piccadilly, the Royal Academy of Arts, London, St George's Hall Bristol and as soloist with Exeter University Symphony Orchestra, Bristol Symphony Orchestra and 'Orchestra Filharmonica Mediterranea'. She has been performed in numerous music festivals across England including Petworth Music Festival, Bloomsbury Festival, Farley Festival and Dartington International Summer School as duo partner with renowned pianist Steven Osborne. Francesca was awarded an Open-Academy Fellowship at the Royal Academy of Music, where she completed her undergraduate and postgraduate studies in solo piano performance under the tutelage of Prof. Joanna MacGregor and Diana Ketler respectively. She has studied with Nicholas Walker and is currently under the tutelage of Prof Lilya Zilberstein at MdW, Vienna and Elisso Virsaladze at "Scuola di Musica di Fiesole". Featuring high in numerous competitions, in 2021 Francesca received first prize in 'Premio Crescendo', Florence, and 'Concorso Internazionale "Citta di Massa". During her studies she was awarded highly commended, in the Lilian Davies Beethoven Sonata prize alongside the Edna Bralesford prize, William Northam Prize and Mozart Concerto Prize in 2017 at the Royal Academy of Music. Francesca has also a strong love for song accompaniment, receiving masterclasses from Richard Stokes, Joseph Middleton, Michael Dussek and Ian Ledingham. She is currently teaching as Italian vocal coach at the Royal Academy of Music and in April 2022 accompanied baritone Charles Cunliffe in the semi-finals of the at highly-acclaimed singing competition, 'The Kathleen Ferrier awards' in Wigmore Hall, London.
Pianist Mimoza Keka, born in Skopje, earned acclaim as a recitalist, chamber musician, piano accompanist and recording artist with her numerous projects and concerts across the country and abroad. Since studying at the Faculty of Music in Skopje with Prof. Todor Svetiev and Prof. Lilya Zilberstein, obtaining a Bachelor of Music (2015) and a Master of Music Arts (2017), as well as being awarded in 2021 with a PhD in Music Arts, Mimoza has launched into a successful concert career as a solo artist, with concerto appearances, solo recitals and chamber concerts. In 2022 she published her book "The use of digital technologies in quantitative analysis of piano performance" available at Amazon.com as well as she published her first solo album named NON-FUNGIBLE, available on all streaming platforms.
Mimoza has collaborated with distinguished conductors including Sasha Nikolovski-Gjumar, under whose baton she performed the Piano concerto no. 2 from Camille Saint-Saens, As a chamber musician she joined the Ensemble for contemporary music Contempora from SOKOM. Furthermore, she has enjoyed performing recitals in many European Cities including Paris, Rome, Bristol, Milan, Trieste, Siena, Punta Ala, Sovicille, Montrond-les-Baines, Sozopol, Sarajevo, having performed at Concerti del Tempietto in Rome, Les dimanches musicaux in Paris, at the International Francophone Festival Soleil in Sozopol, Bulgaria, Siena Summer Festival, as well as in 2022 she performed a solo recital in New York City, at Gallery MC. In 2019 she participated in TEME Project (Transnational European Music Entrepreneur) held in Trieste and Camerino, Italy, as a part of the program Music Moves Europe. Mimoza has also performed in a number of master classes with highly acclaimed pianists as well as having accomplished professional trainings at prestigious music academies including Accademia Musicale Chigiana in Siena, Italy with maestra Lilya Zilberstein from 2015 to 2017.
Родена во Фиренца, Франческа Орландо е британско-италијанска пијанистка која настапува на меѓународно ниво и како солист, корепетитор и како камерен музичар низ многу европски градови, вклучувајќи ги Лондон, Копенхаген, Будимпешта, Малта, Фиренца и Рим. Од нејзиниот дебитантски рецитал во Фиренца, на четиринаесетгодишна возраст, таа интензивно настапува во познати концертни сали како што се Вигмор Хол, Сент Џејмс Пикадили, Кралската академија за уметности во Лондон, салата Свети Џорџ во Бристол и како солист со Симфонискиот оркестар на Универзитетот Ексетер, Симфониски оркестар Бристол. Настапува на бројни музички фестивали низ Англија, вклучувајќи ги музичките фестивали Петворт, Блумсбери и Дартингтон како дуо партнер со познатиот пијанист Стивен Озборн.

Пијанистката Мимоза Ќека, родена во Скопје, се истакнува како рециталист и камерен музичар, концертирајќи на бројни музички фестивали во Париз, Рим, Бристол, Милано, Трст, Сиена, Њујорк, а во 2022 година го објавува соло албумот NON-FUNGIBLE. Во 2019 година таа учествува во европскиот проект TEME одржан во Трст и Камерино, Италија, дел од програмата Music Moves Europe, а во текот на студиите учествува на голем број мастер класи во музички академии вклучувајќи ја Accademia Musicale Chigiana во Сиена, Италија.